Shopping for antiques can be like taking a step back in time and we have several wonderful antique stores in South Kesteven. Antique shops are filled with fascinating objects to be discovered, they may be hidden away and take a little extra effort to find, but the reward will be worth your time. The type of things to look for in antique shops will differ from person to person, but favourites tend to be clothing, furniture and collectable items such as old housewares, coins, and stamps.
Whilst there's nothing wrong with furnishing your home with pieces from Ikea, you may wish to invest in some vintage pieces such as wardrobes or chests of drawers. You'll be able to spot older pieces as you will see that they have been hand-made and constructed with dovetail joints – a sign of quality and a construction technique that was used for hundreds of years.
Of course, not all vintage and antique objects you find will be cheap, but you could pick up some furniture that was made to last – a writing bureau for example will give your home office a distinctly classic look and feel. Or you might find some vintage clothing, and as styles tend to come back into fashion you might even find that you set a new trend. Coins and stamps have always been popular and tend to increase in value, although this sort of collection may not be for beginners.
Market Deeping Antiques and Craft Centre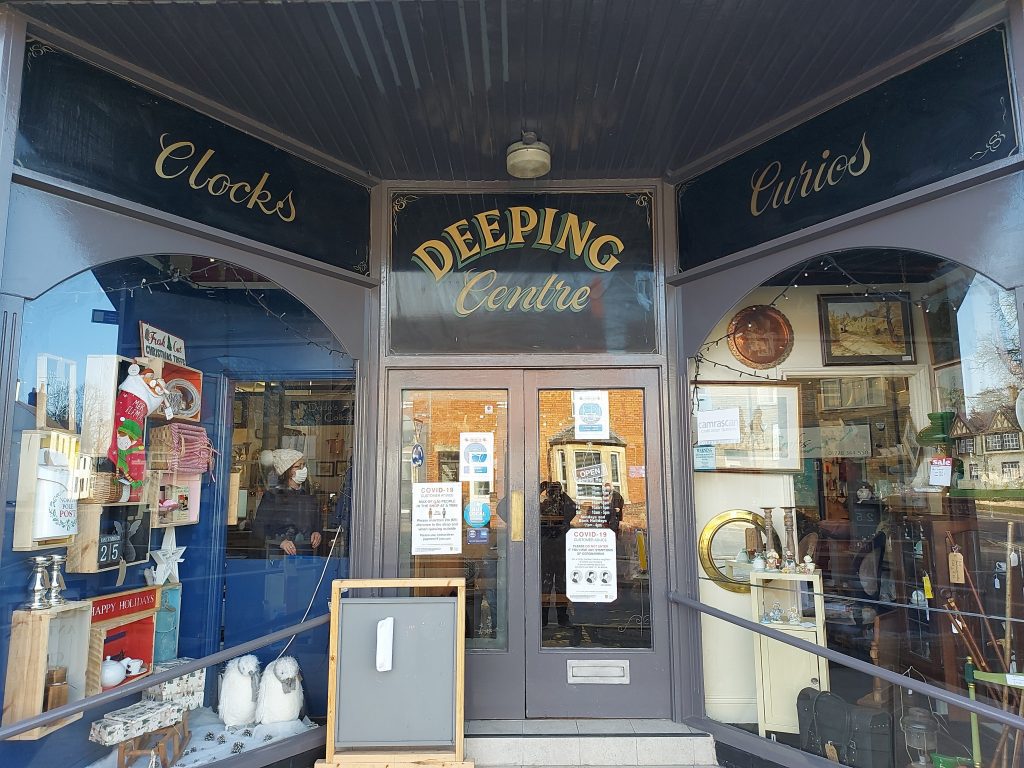 Market Deeping Antiques and Craft Centre is an independent family run business with over 50 designers and traders under one roof. Offering a stylish combination of older and modern items from sparkling vintage glassware, to well well-travelled trunks and suitcases, to kitsch colourful pots and pans, beautiful hand embroidered table linen, and lovingly restored furniture perfect for any kitchen, this centre has something for everyone. Vintage vinyl galore is great for music lovers and there is also a huge range of contemporary gifts and homewares.
Address: 50-56 High St, Market Deeping, Peterborough PE6 8EB.
Telephone: 01778 380238.
Opening hours: Monday – Saturday 10.00-5.00pm, Sunday 11.00am-4.00pm.
For more information take a look at the website.
Notions Antiques Centre, Grantham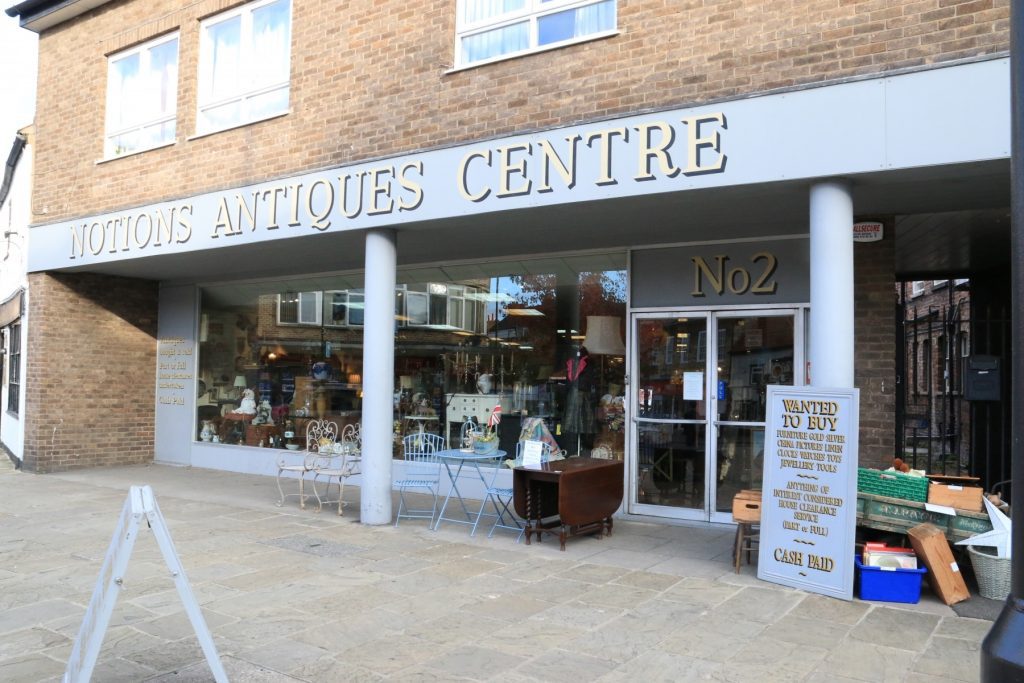 Located on the High Street in Grantham, not too far from the Angel and Royal Hotel, Notions was established in 1984 and now has over 50 dealers trading in a wide variety of antiques and collectables. Antiques range from Victorian, Edwardian furniture, clocks, ceramics, glass, brass, silver and copper to artwork, prints, books and jewellery.
Address: 2 High Street, Grantham, NG31 6PN.
Telephone: 07736 677978 or 01476 563603.
Opening hours: Monday to Friday 10.00am – 5.00pm, Saturday 9.30am – 5.00pm, Sunday 11am – 4.00pm.
For more information take a look at the website.
St. Martin's Antiques Centre, Stamford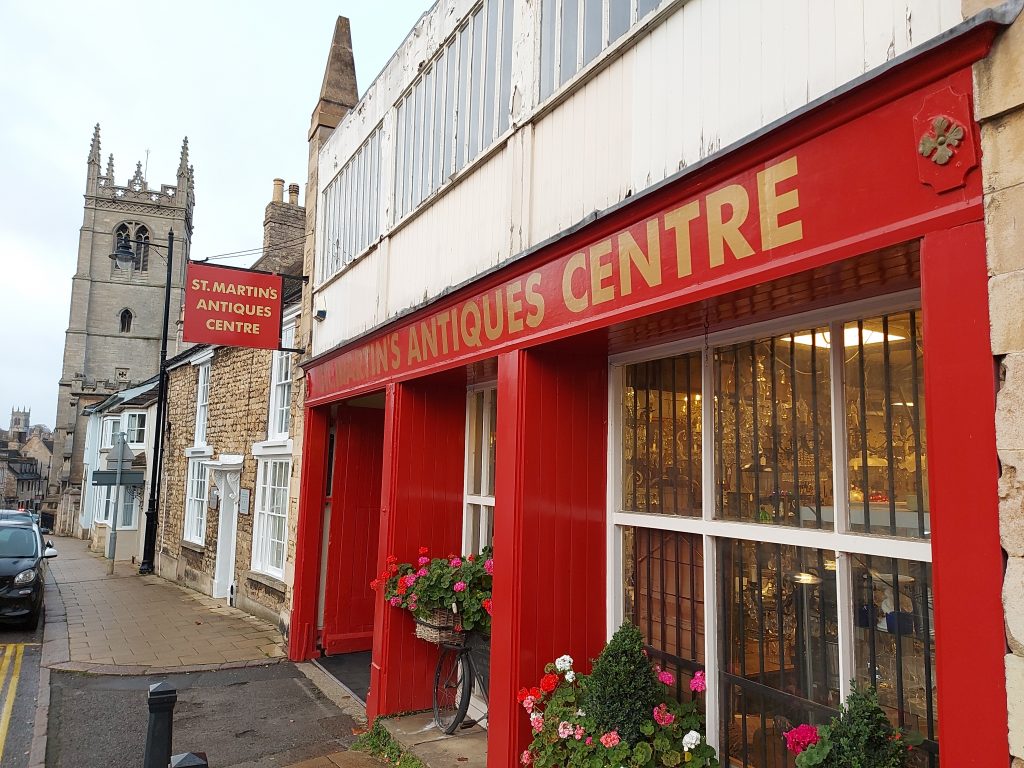 A well-established antiques centre located on the hill between the George Hotel and the William Cecil Inn, Stamford, it boasts over 70 dealers, offering antiques of all varieties, shapes and sizes.
The antiques business has been trading since the early 1990s and the building has an interesting industrial and automotive heritage. It began in the late 1800s as a place for the manufacture of horse drawn carriages were before becoming the New Pick Motor Company in 1904. The site continued to trade as a motor business until late 1980s.
Stock ranges from fine quality Georgian, Victorian and Edwardian period furniture, to fine porcelain, glass, copper, brass and silver items. The centre also has dealers that specialise in clocks and watches, jewellery, books, pictures and prints, textiles and old leather goods. There is even a vintage clothing room and a small art gallery.
Address: St. Martin's Antiques Centre, 23a High Street, Stamford PE9 2LF.
Telephone: 01780 481158.
Opening Times: Monday – Saturday 10:00am to 5:00pm, Sundays and Bank Holidays: 10:30am to 4:30pm. New Year's Eve and Christmas Eve: 10:00am to 02:00pm. New Year's Day, Easter Sunday, Christmas Day and Boxing Day: Closed.
For more information take a look at the website.
Shopping for antiques will also give you the feel-good factor of knowing that you're being eco-friendly, rather than buying something new that has been made using plastics or construction materials such as MDF. Whilst only a few people might be able to afford to fill their home with antique furniture, you might want to select a few special pieces to add to your home – knowing that you are reusing and recycling old furniture and taking, at least temporary, ownership of something old and unique.
And don't forget, there may be a little wiggle room on price. Anyone who has watched TV shows such as Bargain Hunt or American Pickers will know that antique dealers may be willing to negotiate on price. Don't go crazy, but if you're feeling confident maybe you could try haggling to get yourself an even better deal.